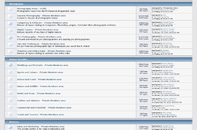 Our online photographic forum is the perfect place to discuss photography online with like-minded photographers.
The forum hosts a range of topics from photo techniques, critiquing, business, SEO and of course networking.
For more information on the forum, please check out the website at:
SWPP/The Societies Members' Forum
Keep in touch with fellow photographers on The Societies' Forum.

Whatever stage you are at in your career, forum membership gives you the opportunity to:

Be at the forefront of knowledge sharing and best practice thinking
Keep up to date with current photo issues
Debate with experts in specialist areas
Network with other photographers
Add to your continuous professional development

Benefits:
Competitions
Education
Network with other members
Help and advice
Share ideas
Marketing advice
Keep up to date with the latest Societies news
Discuss the Convention
Photographic critiques
Website critiques
Buy and sell used equipment
Find jobs

Lost your login details?

Please use the password reminder system, using your registered email address https://thesocieties.net/forum/index.php?action=reminder

How to post:

Since posting messages is basically what forums are all about, we will spend some time looking at the various options and techniques available.

Starting a new topic

Browse to the board where you wish to post and click the 'New Topic' button (positioned at both the top and the bottom of the board), which should take you to the Start New Topic screen.

While this presents a number of options, the two most important are the Subject field and main Message field (not labelled as such, but obvious by its size). So enter your subject and start to type (or paste) your message into the main text area, noting that a message missing either a subject or a body will not be accepted for posting until it has both. If you're happy with your plain text message, you can then post it by clicking the 'Post' button and/or preview it first by clicking the 'Preview' button, but there are many further options available to make things that little bit more interesting.

Replying to a topic or poll

Replying to a topic or poll is basically the same as starting a new topic, but it's not necessary to enter anything in the Subject field unless you wish to change what's already there. To vote in a poll, you simply have to select your chosen option(s) and click 'Submit Vote'.

If at any time you are unsure how to do something on the forum, there is a fantastic help section. A link to this can be found on the forum in the main menu.

Smileys

While smileys can be viewed as purely whimsical in nature, they can also play a valuable role in clarifying the written word in much the same way as vocal inflections and/or facial expressions clarify the spoken word. Like most forum software, The Societies provide a standard range of smiley images which can be added to posts by clicking the relevant icons or typing the relevant codes.

How to upload a photo to the forum:

There are two ways to get your images in the forum.

1) To link from your site simply copy the location of your image and put
[img][/img] tags around it, e.g.
[img]http://www.swpp.co.uk/art/swpp_logo.gif[/img]

2) To upload an image to the forum: reply to the thread and click the 'Additional Options...' link just below the text for the post. Click the browse option under 'Attach' and find your image on your computer. Then click 'Post'.

Weekly forum competitions

Each week we run a general photography competition and a wedding photography competition. The winners are chosen by the members, by voting for their favourite image.

The topic each week is chosen by the previous week's winner. All the winners will go through to a final vote for the favourite image of the year and the winner will receive a prize and be awarded, at the Annual Awards Night, the accolade of Members' Choice General Photographer of the Year and Members' Choice Wedding Photographer of the Year.

Tapatalk

The Societies' Forum is now available on Tapatalk. To find this forum, search for "The Societies Forum" in Tapatalk.

If you've ever tried to surf forums on your phone or tablet, you know how awkward this can be. Tapatalk is a mobile application for Android, iOS and Blackberry that enables you to easily browse The Societies' Forum on the go. Install it on your phone or tablet and get full access to forums. Read posts, write posts, send PM's... you name it, Tapatalk can do it.

It's easy to use, and once you've entered your forum credential you don't have to enter them again.